ACCESSORIES




Designer Accents and Shutters from Alcoa®
Alcoa products represent a legacy of durability trusted by homeowners and professionals for years. Our quality Designer Accents and Shutters are solidly constructed and easy to install, giving you the freedom to explore new design ideas. All of our Designer Accents and Shutters are backed by comprehensive warranties that are among the best in the business.
Shutters and Tops
Shutters and tops provide the finishing, decorative touch for outstanding curb appeal. Alcoa Home Exteriors has both louvered and raised panel shutters in a wide variety of sizes, and the 700 colors of DreamColor in certain styles for a fully coordinated home exterior solution.
---




Mid America Siding Components™
•
Architectural Trim
•
Shutters
•
Gable Vents
•
Roof Ventilation
•
Mounting Accessories

Selection
The most colors. Match or contrast with any siding color to give homes greater appeal.
Wide range of sizes. The right size product for any window, door, gable or ventilation need. The most options available for mounting lights, meters, outlets and water spigot.
More styles. Siding component styles that add character to any home.

Installation
Finished appearance. Snap-on trim ring and Shutter-Lok® help to finish the job right. Easy to handle. Lightweight products are easy to lift and install.
Consistent. Count on the product size, color, and construction to be the same every time. Any surface. Can be installed directly on wood, vinyl, fiber cement, aluminum, stucco, brick, and hardboard.

Quality
Backed by a 40-year warranty. Peace of mind that products won't crack, split, or fade. Performance. SolidThru™ color products hold up in all weather conditions and all climates. Maintenance-free. No scraping, sanding or painting needed. Made in the USA. All our products are engineered and manufactured to exacting standards.
---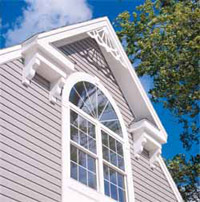 Molded Millwork Products

Balustrade Systems
-
Click here to view all products
Entrance Trim -
Click here to view all products
Window Trim
-
Click here to view all products
Decorative Millwork
-
Click here to view products
Eave Vents
-
Click here to view all products

Louvers
-
Click here to view all products


Moldings
-
Click here to view all products
---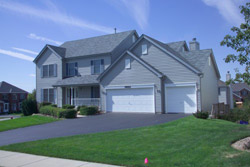 TRIM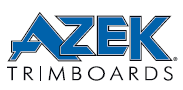 AZEK ® TRADITIONAL TRIMBOARD
AZEK ® is available in Traditional finish featuring a smooth, semi-matte white finish on both sides. This product, with square edges on all sides, is perfect for window and door surrounds, fascia, soffits, and other trim applications. It can be milled, moulded, and heat formed for custom or curved profiles.More Info...



AZEK® FRONTIER TRIMBOARD
AZEK® Frontier features a rustic Frontier texture on one side and the Traditional smooth finish on the other side. This reversible product features all of the same product benefits as Traditional AZEK and looks great on all trim applications. Complementing all housing exteriors, AZEK Frontier is available nationally and in Canada through professional lumberyards. More Info...



AZEK® MILLWORK
The latest AZEK innovation is a line of precision crafted millwork made in the same time honored tradition of fine wood millwork. Each piece is milled individually to provide beautiful, crisp details which bring a new level of distinction to cellular pvc millwork.Three popular profiles launch this new AZEK product line – brick mould, crown moulding and drip cap. AZEK Millwork profiles have the same features and benefits of traditional AZEK products – no rotting, splitting, warping, cupping, or twisting; no painting required, and years of beauty guaranteed. Sizes:More Info...



AZEK® BEADBOARD
This popular item is perfect for wainscoting, porch ceilings, soffits, and hot tub surrounds. The reversible edge/center bead and v-groove offers design flexibility to maintain just the right look for your project.Size:
1/2" × 5-1/2" × 18'
5/8" × 4" × 18' More Info...



AZEK® CORNERBOARD
Pre-formed for easy installation, the AZEK® Cornerboard has a seam that will never open ensuring long lasting good looks. The AZEK Cornerboard complements all housing exteriors and is available in Traditional or Frontier.Sizes:
4" outside corner—10' and 20' lengths
6" outside corner—10' and 20' lengths More Info...


AZEK® Sheet
Available in sheet from 4'×8' up to 4' × 20' in a variety of thicknesses, AZEK Sheet is the perfect trim product for pop out bay windows, raised panels, dormers, and any trim application over 12" wideMore Info...



AZEK® ADHESIVE
A water-based cellular pvc cement, AZEK Adhesive is the answer to preventing seams from opening. By using AZEK Adhesive on every AZEK to AZEK joint, you can ensure a great looking job that will retain those good looks. Use AZEK Adhesive on long fascia runs, window surrounds, or any other project that requires a durable AZEK to AZEK bond.AZEK Adhesive is non-toxic, virtually odorless and cleans up easily with water. It is UV stable with a medium consistency and does not require primer before application.For complete information on gluing AZEK to AZEK, consult the AZEK Installation Guidelines "Gluing" section.Sizes:

4 oz. 8 oz. 16 oz. 32 oz. 128 oz. 5 gal.
---

Alsco Contours
We make it all, to make it better.
As America's only vertically-integrated source of aluminum trim products, ALSCO® handles manufacturing totally in-house. So instead of compromising with commodity materials and processes, we customize and optimize every element of the manufacturing process to give you trim products that deliver unbeatable performance and value.
ALSCO's Perfect Trim™ brings you the industry's most comprehensive trim collection in 44 of today's most popular designer trim colors. All colors are available in soffit, fascia, trim coil and roof molding, and 38 of these colors are also available in a complete, rainware system called Perfect Trim Plus™. Truly, this is the perfect trim for the beautiful home.
ALSCO GUTTER-TUFF® is the first coating system exclusively formulated to meet the demands of field forming. Its superior adhesion resists peeling better than any paint currently available for residential gutter applications.
ALSCO DuraTex™ specialty coil features a high-performance, texturized finish that combines the high-fashion appeal of low-gloss with the dirt-shedding, low-maintenance ease ordinarily found only in glossier finishes. This stain-resistant, scratch-resistant material will complement any exterior project.
ALSCO Cedar Supreme ™ is an embossed PVC trim coil with realistic cedar grain, low-gloss finish, and extra rigidity for crisp, wave-free, buckle-free installation. With much greater strength than ordinary trim coil, Cedar Supreme easily handles such demanding applications as fascias, porch beams, and other wide spans, while hiding nail dimples and finger prints to give your trim a crisp, professional look.
Now, you can provide the classic elegance of custom wood millwork without all the maintenance. The Contours Collection™ offers beautiful fascia and frieze products that are installed with our patented, "installer-friendly" snap-on attachment system for a nail-free, ripple-free application.
Proven, simple, strong, and affordable, the ALSCO Gutter Guard is the most durable hood product on the market today. Clogs can cause major structural damage to foundations, basements, crawl spaces, decks and damage to costly landscaping. ALSCO Gutter Guard with the SureFit Clip™ offers a proven combination of value, design and ease of installation.
For nearly 60-years, ALSCO has added value to homes as the leading supplier of aluminum home-building products. ALSCO offers innovative solutions, the perfect trim for a beautiful home.

---
GUTTERS SYSTEMS


PANTHER 5" SEAMLESS ROLLFORMER
Standard Equipment
•
Front pull guillotine
•
Seven station aluminum box
•

Emergency shutdown switch
•
Easy adjust entrance guides
•
Two quick release runout stands
Standard Upright System
•
2 spool turnstile upright & 2 aluminum spools
•
New aluminum spools less than half the weight of steel spools
•
Modular upright system distributes the weight of the coils to the floor of the vehicle, not the machine
•
Coil tension brake
•
Transfer bar
Specifications:
Dimensions:

Top of spools to the bottom of machine 46". Width 23". Length 96" with straight blade guillotine. 99" with front pull guillotine.

Construction:

3/8" steel frame welded on a jig fixture for accuracy. Fully enclosed with 7 gauge steel sides. All parts individually plated or painted prior to assembly.

Drive/Forming Rollers:

Twelve drive forming rollers - 5 bottom, 7 top. Rollers are 1045 high carbon steel with .002 industrial hard chrome.

Weight:

1,200 lbs.

Power:

3/4 HP, high torque sealed motor. 20-1 gear reduction unit. Machine plugs directly into 110-120V outlet.

Production:

Approximately 35 feet per minute

Recommended Materials:
• Maximum width 11 3/4" to 12 3/8"
• Aluminum - .032 Maximum Gauge
• Painted steel - 26 Maximum Gauge
• Copper - 16 oz. 3/4 hard Maximum Gauge
Options:

• Straight blade guillotine
• Additional runout support stands
• 220 volt/50hz.
• Single, double or triple spool upright available
• Turnstile machine mount cradle
• CE Certification
• 12 volt DC powerTrailer riser pad
Down Pipe

Copper Down Pipe

Copper 1/2 Round Gutter

Touch-Up Paint
12 oz.

Gutter Seal
10.5 oz. Cartridge
8 oz. Squeeze Tube

113/4",117/8",15" }
.027 and .032
Mini Coils Available

5" & 6" End Caps

Pop Rivets

7" x 1/2" Zip Screws

7" & 8" Aluminum Spikes

5" & 6" Ferrules

Elbows

5" & 6" Hidden
Hangers w/ Screws

5" & 6" Hidden
Hangers

Box Miters
5" & 6" Outside

Box Miters
5" & 6" Inside

Pipe Bands

Strip Miters
5" & 6" Inside
5" & 6" Outside

Gutter Wedges
Gutter Tools

Outlets

Hole-in-One
Saw

2-in-1
Hand Riveter

End Cap
Crimper

Nail
Punch

Downpipe
Crimper

4"
Oval

22/3"
Pop-In

3" x 4"
Rectangle

2" x 3"
Rectangle
---
Gutter Guard
QUICK RELIEF FORM THE COMMON LEAF

Leaf Relief™ brings real relief to homeowners who need a gutter solution that works...first time, every time.
The patented design of Leaf Relief™ allows water to flow freely while leaves, pine needles, seeds, and other natural debris are lifted away with only a gentle breeze.
Leaf Relief™ installs easily on any gutter, new or existing, with a simple, snug fit that's perfect every time. Plus it never requires lifting a shingle!
Technology makes it work. Alcoa Home Exteriors makes it risk free with their worldwide reputation and 10-year warranty.


ONLY LEAF RELIEF ASSURES...
Never Clogs

Never Overflows

Virtually Eliminates Callbacks

Solid Aluminum Construction
From Alcoa...the name to trust in aluminum. No rusting. No distortion. No painting needed.
Completely Weather & Pest Resistant
Mounts securely and stays firmly in place to resist high winds, ladder damage, pest invasion.

Fits All Standards Gutters
Available in 5" and 6" sizes
Fast, Simple Installation
Mounts directly to gutter. No lifting shingles
Patented Aluma-Perf™ Technology
Keeps water flowing in and keeps leaves, needles, seeds and twigs out... and off...with a gentle breeze.

---


Leaf Sentry Gutter Protection System

• Installation is quick and simple
• The product is versatile. It fits both new and existing 5" and 6" gutters
• One of the most durable coatings on the market today
• Patent-pending Easy Clip gives you proper positioning every time
• Triple row of strengthening ribs make Leaf Sentry extra rigid and stable
• Water adheres to the curves of the specially designed hood and simply flows into the gutters while debris slides off, away from the gutters
• Leaf Sentry is made of heavy-gauge .019 aluminum

---



Quality Edge, Inc.
As an industry leader in customer service, product and process innovation for the building products industry, Quality Edge offers a full line of premium, high-quality aluminum perimeter and accent products for homes. Built to last, Quality Edge designs and creates custom fascia, soffit, drip edge, columns, steel siding and other quality products that transform today's house into a home. Quality Edge's new Ingrain products line is set to revolutionize the shapeable veneered metal segment for both residential and commercial use. Quality Edge – founded on innovation, driven by service. For more information about Quality Edge and its products, please call (888) 784-0878

---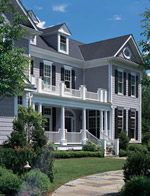 Royal Moulding and Trim Boards
Royal has created a selection of some of the finest quality decorative exterior mouldings and trim boards available today. Noted for their exceptional beauty, crisp detailed lines and unsurpassed energy efficiency, these premium quality products are the perfect choice for creating exquisite architectural details around windows, walls, porches, doors and garage doors.
Build impressive porch ceilings with our beaded planking or take advantage of our architectural build-ups, which enable you to design custom mouldings ofunsurpassed quality.
Designed from 100% Cellular Vinyl PVC™, Royal exterior mouldings and trim boards give homes the benefits of natural wood without the inherent defects.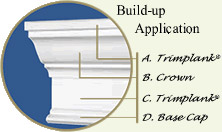 Features
:
Ready to Install

Factory Applied Readi Finish® with 10-Year UV Protection Warranty

Moisture & Termite Proof Material

Does Not Promote Mold or Mildew

Minimizes expansion and contraction for better installation

High Energy Efficiency

Low Maintenance

Mills & Miters with Standard Tools

Cuts & Nails Better than Wood

Installs Easily with Nails, Screws or Glue

"Bendable" No Rot® profiles let you create custom shapes quickly & easily

Saves Time and Labor

Can Be Installed Below Grade or Direct to Masonry

Available in White Only

Paintable with Oil or Latex Paint
PVC Trim Profiles
Whatever the application, these exceptional high density extrusions easily handle seasonal elements while maintaining the beautiful appearance of painted wood.PVC Siding Accessories
The perfect finishing details for any style home, Royal's 100% Cellular Vinyl™ siding accessories are the superior alternative for wood and other composite boards.

Trim Board
From wider trim to fascia, rakes and specialized corner treatments, Royal Trim Board™ is the perfect solution.

---
COLUMNS

Moultrie Manufacturing Co.
Aluminum Columns
Our aluminum columns add strength and stateliness to homes, churches, public buildings, and universities. The clean lines and easy installation of our Old South columns have been popular with architects, designers, builders and remodelers since time has past on.
| | | | | |
| --- | --- | --- | --- | --- |
| | | | | |
| Federal Square | Plantation Square Double Indent | Plantation Square Single Indent | Traditional Square Fluted | Round Fluted |
Fiberglass Columns
Our fiberglass columns are ideal for indoor and outdoor installations. Fiberglass allows for a smooth, tapered architectural look, and exquisite detail in the capitals and bases.
| | | |
| --- | --- | --- |
| | | |
| Round | Square | Round Fluted |
---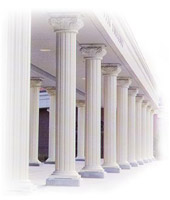 Superior
Aluminum Products
Whether it's a new construction or remodeling job, Superior aluminum columns and fiberglass columns help provide the detail that distinguishes the extraordinary from the ordinary. With a complete range of sizes in load-bearing and decorative styles, they add a touch of elegance that complements any structure.

Aluminum Columns and Fiberglass Columns
Whether it's a new construction or remodeling job, Superior aluminum columns and fiberglass columns help provide the detail that distinguishes the extraordinary from the ordinary. With a complete range of sizes in load-bearing and decorative styles, they add a touch of elegance that complements any structure.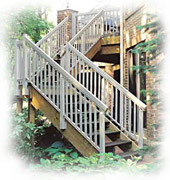 Aluminum Railings
Superior aluminum railings offer the finest of railing design features available on the market today. Utilizing all the advantages of aluminum, Superior railing products are strong, durable, rust and corrosion-free. These characteristics make aluminum railings a practical, sound investment for the budget-minded builder.

Aluminum Fences
Maintenance-free aluminum fences for perimeter fencing, pool railings, and dividers on residential, commercial, institutional, multi-housing, and municipal installations.
---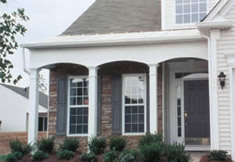 Afco Industries, Inc.
has been a manufacturer or quality building products for over 50years. As an employee-owned company, its dedicated people are committed to providing the best value in aluminum structural columns and posts. We are the PRMARY PRODUCER, and the only supplier of aluminum columns in the U.S. that is totally vertally integrated, with in-house design engineering, aluminum extrusion mill, electrostatic coatings, and private truck fleet.
---

Crown Column & Millwork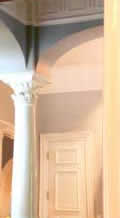 Round Fiberglass Columns
Fiberglass columns from Crown Column & Millwork are a satisfying combination of modern-day technology and low maintenance care. Each column shaft is produced with the lower one third straight and the upper two thirds tapered, creating a correct architectural entasis. Entasis, attributed to ancient Greek architecture, is the slight convex curving of the column shaft resulting in a most pleasing appearance.
Square Fiberglass Columns
Square fiberglass columns offer an alternative to the more traditional round columns. Crown's plain square fiberglass columns in 8", 10" and 12" diameters up to 1' in length are made from specially formulated glass-reinforced polymers with a one-piece shaft and applied astragal with an attractive capital and base molding. Crown's square fiberglass column is both lightweight and strong, resulting in a column that is easy to handle, water-resistant and impervious to moisture-related problems. Plain square fiberglass columns are available in 6", 14" and 16" diameter up to 18' in length and are produced similar to round fiberglass columns as cast glass-reinforced polymers with exceptional strength and durability.